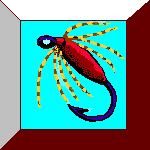 Program in beta testing.
Your feedback is appreciated. Send comments to: bruce@fishermonk.com

---
Match the Hatch (ver 2.0)
Permits the user to identify aquatic insects active on local waters and suggests suitable patterns to match them.
Query database using:
Species name.
Common name of insect.
Description of the insect.
Pattern name.
---
last modified 30/9/07
Comments or suggestions: bruce@fishermonk.com

---