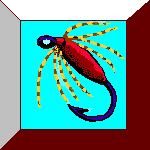 Hexagenia
This genus is found in the Midwest and West. The nymphs remain buried in the stream bottom, except during the molting periods, which take place up to thirty times before emergence. Nymphs leave the bottom, swim about, then rebury themselves after molting. It is this habit that gives trout a chance at them all year long. They are found in the trout's stomach even in the winter months. Nymphs are moderate to large in size, are characterized by mandibles bearing long tusks and legs flanged for burrowing.
Members of this genus comprise North America's largest mayflies, with some having bodies up to 40 mm long.The frontal prominence is not forked, as in Ephemera, but instead may be rounded, conical, or truncate. Mandibular tusks are long, slender, smooth, and upcurved, with tips divergent. Wings of the adult are not spotted and two tails are present.
---
---
References:
Swisher D and Richards C, 1971. Selective Trout. Crown Publishers, Inc.
---
last modified 23/9/04
Comments or suggestions: bruce@fishermonk.com

---